This is the classic formula.
It lasts 3 weeks, with specific departures dates
This formula combines:

The volunteer family welcome

3 excursions

The « Farewell Party»
EXCURSIONS
Why ?
These excursions are put in place to nicely complement the stay :
To allow all participants to do some "tourism"
To allow them to visit some of the most popular places in Southern California
Host families can plan weekends focusing on more specific activities and family activities, since they do not have to organize these tourism visits
So that OUI-CONNECT participants can share moments between international teenagers

Where ?
Possible Excursions Include :
Hollywood Blvd, Rodeo Drive Beverly Hills, Santa Monica, Los Angeles.
Whale Watching Boat Tour, Professional Baseball Game (MLB)
Universal Studio Hollywood
Six Flags Magic Mountain
Sea World (San Diego)
Visit of San Diego
These excursions may vary according to the program dates chosen and calendar availability. They are detailed at the time of registration. Visit of LA and Universal studios Hollywood are guaranteed.

Programme and Planning ?
There are 3 total excursions.
They are programmed at the end of the stay so as not to interfere with the participant's integration into his family (language, integration, distraction…).
The program is communicated with the registration file.
THE "FAREWELL PARTY"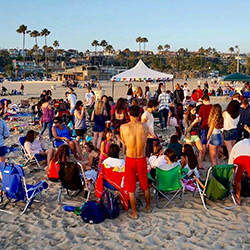 The "Farewell Party" concludes the 3 weeks stay. Host families and participants of all nationalities meet at the beach or at a park, for a barbecue (on the menu: "Hot Dogs and Smores", Pizza, games, photo opportunities and socializing…)
As a strong community moment, the "Farewell Party" ends the stay in beauty, reflecting on the journey traveled together as well as progress made in English.